Good Club
This is Canada's ULTIMATE Gentlemen's Club. Featuring the world's sexiest girls & hottest stage shows. Conveniently located just minutes from major sporting venues, all downtown hotels, convention, and trade centres. At Filmores, our BAD GIRLS make for a good time.
Bad Girls
Introducing some of our BAD GIRLS. Whether it's our naughty Cop, because you have been very bad, or our Nurse for some physical attention, they are all hands on. Read below to find what our deliciously BAD GIRLS are saying.
Scarlett

Yes it gets very, very hot in Filmores,I can even make the DEVIL sweat!

Ms. Lovejoy

You have an APPOINTMENT at Filmores, relax and tell me where it hurts.

CC Bangcock

Remember, if you find yourself SMOKING after sex, you are doing it too fast.

Daisy May

Your going to be bucked, rode and hogtied. Honey, that's just the way I say HOWDY!

Det. Staxxx

Stand at attention, legs spread wide and be advised, you have the right to be AROUSED.

Luscious

Clothes are always a bargain here at Filmores. They are always a 100% OFF.
"Well, here I am.
What are your next two wishes?"
Just a little conversation heard from our PLAYERS V.I.P. Lounge.
Players Lounge
The Players Lounge is our steamy VIP area where the temperature isn't the only thing rising. The Private and Group booths have BAD GIRLS waiting in heated anticipation. Add to the experience with Filmores' Bottle Service.
"Thanks, but I'm
much hotter
when I'm with a Player."
There are no
more empty chairs...
Can I sit on your lap?
Besides, how else do you plan to keep warm?
Location
We are just a short cab ride from the Air Canada Centre, the Rogers Centre, the Metro Toronto Convention Centre and all major downtown Hotels. Every Toronto cab driver knows our location.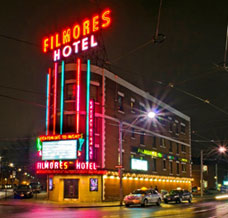 OUR ADDRESS: 212 Dundas Street East, Toronto, Ontario M5A 1Z6
TELEPHONE: 416-921-2191
CLUB HOURS: Monday thru Saturday: 4pm - 2am, Sunday 5pm - 2am
TTC accessible via streetcar 502 Dundas St.
Wallpaper
And what is it that you spend most of your conscious life looking at? Is it your car? Is it your significant other? Or is it your pet? NO, NO and NO! It's the WALLPAPER on your computer or cell phone. Choose one of our lovely ladies to be your mobile companion. They all are available and FREE.
Click on your screen size/product to download
Wallpapers greyed out are not appropriate for your device.